We're excited to announce a series of upcoming blog posts with some of our colleagues and customers who use vinyl for their businesses.
Today we're thrilled to speak with Linda, the brains and inspiration behind Craftaholics Anonymous and RuffledBegonia.etsy.com. She shares what it's like to be a pro blogger and craft designer with young children. Thanks, Linda!
P.S. Have you seen how cute her patterns are at RuffledBegonia? Wow!
**If you or your business would like to be interviewed, please drop us a line.**

How do you juggle your writing, business, two little kids, and your craftaholism?
It's not easy, that's for sure!! What helps me a lot is to prioritize my tasks. Each day I set 1-2 goals that I would like to get done for my blog, decide the best way to accomplish them, and then hope for the best!! With two young kids, my schedule has to be flexible and my family always comes first. So if I don't get done what I had hoped to, that's ok. I do the best I can!
One other thing that I have found is if I need to get something done on my computer, to avoid social media sites until I'm done with my task(s). I get on, get my writing/photo editing done, and then if I have time, then I go to my Facebook or twitter pages. Those sites can sap your time very quickly and waste the precious moments you have before the baby wakes up.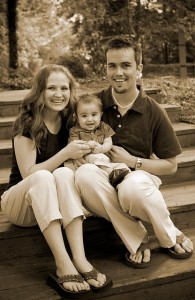 How did you transition your blog to a business with advertising and sponsors?
Very good question! When I felt my following was large enough to offer value to sponsors, I simply created a button on my sidebar that said, "Advertise Here" with a link to an advertising page with more info.
Were you nervous when you had to give up alphabetizing your pantry?
Yes. After having kids, losing control of how clean/organized my house was a tough transition. I was a clean freak before the kids came. I thrived on cleaning my house very regularly. When I could no longer do that, it stressed me out! Watching my child with spaghetti covered fingers wipe his hands on everything in sight was about more than I could handle! LOL! Now I am very used to messes and lots of them with 2 little boys! haha
What have you changed in your house lately?
I just redid my Master Bedroom! (I love how it turned out! the gray, yellow, and black came together so nicely!)
I love tweaking and changing things around our home! We are currently trying to sell our house, so when I change the decor or layout of a room, buyers are like, "It looks nothing like the pictures on your listing!" It kind of makes me laugh because my home almost never looks the same week to week!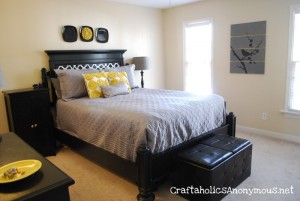 Do you have any upcoming projects you're excited about?
I just opened up a pattern shop, RuffledBegonia.etsy.com and I've got some really awesome ideas for a couple patterns! And yes, most of them include ruffles 🙂
Have you ever had a craft project go terribly wrong and were your kids involved?
Oh yes, I have had plenty of projects go COMPLETELY wrong! lol! One that makes me giggle is when I tried to cover a tennis ball with strips of red and cream toile fabric for an accent in my front room. The print was mainly cream with the design in red so when I was done covering the tennis ball, it looked like a bloody eyeball!!! It was aw*ful! Luckily it was right before Halloween, so I just stuck a googly eye on it and embraced the ugliness!
What bloggers do you love reading?
Ever since the baby was born in October, I haven't had time to read blogs. But I used to love reading Pioneer Woman (who doesn't?!) and Centsational Girl. Both fabulous ladies!!
Why is Vinyl Wall Expressions on your "Raves" list?
I love that Vinyl Wall Expressions lets you design your own custom vinyl decals!