Looking for a fun, inexpensive border for a boy's room? Here's a great idea from HowDoesShe.com using pictures of cars and trucks, along with wall words inbetween the art. They made three sets of trucks each in a different color. Then they stuck the trucks to the wall and mixed the colors together so each vehicle had 3 different colors of vinyl on it.
We're offering the 6 trucks in sets. You can choose whether you want 1, 2, or 3 sets so if you want you can mix the colors like in the tutorial but you don't have to. Just type the colors you want into the Colors field in the form below.
If you want the wall words also, add them to your cart using the 2nd PayPal button below.
*FREE US SHIPPING for items over $20*
To Buy, choose:
set of 6 vehicles (height 6 inches) in 1, 2, or 3 colors (ambulance, fire truck, police car, semi truck, pickup truck, car). Vehicles are pictured below. Colors are pictured below also.
set of 4 vinyl words (height 3 inches) in one color "Vroom! Honk! Toot! Beep!"
Buy Vinyl Cars and Trucks for Boys Wall Border
There will be a separate set of 6 for EACH color, so if you choose 3 colors, you'll receive 18 vehicles.
Buy Vinyl Wall Words for Boys Wall Border
You'll receive the 4 words in the ONE color that you specify in the form below. Choose a color from the palette in the image below. Words are "Vroom! Honk! Toot! Beep!"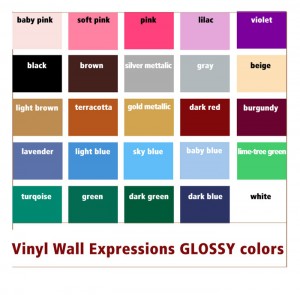 Or design your own vinyl wall quotes, view a gallery of others customers' vinyl art designs, or view the list of vinyl quote ideas.